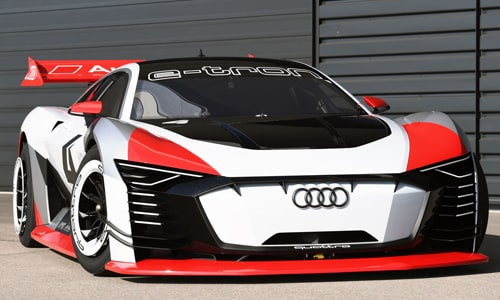 Audi turns virtuality into reality.
Audi take a unique approach to turn electric mobility into a tangible experience as it introduces the "Audi e-tron Vision Gran Turismo" concept. The race car was originally designed exclusively for virtual racing with the Playstation 4. However, Audi has now turned the virtual car into reality in conjunction with Formula E. The Gran Turismo concept will make its debut as a race taxi on Saturday, April 14 in Rome.
The concept car was developed and produced within the span of 11 months at the Audi's pre-production center based on the example of the Audi e-tron Vision Gran Turismo from the "Gran Turismo" PlayStation game.
Audi hasa been working together with Sony and Polyphony Digital (Creators of Gran Turismo) for around 20 years. The Audi e-tron Gran Turismo virtual race car was created by Audi designers for the "Vision Gran Turismo" competition. Many automobile manufacturers created virtual race cars for the contest with a lot of them being turned into full scale models. However, the Audi e-tron Gran Turismo is the first concept car of this range to be deployed to real world race tracks as a fully functional vehicle.
The e-tron Vision Gran Turismo will be deployed as a race taxi at all European Formula E races and many other events in 2018. The concept will be driven either by former DRM driver Rahel Frey (Switzerland) or Le Mans winner Dindo Capello (Italy).