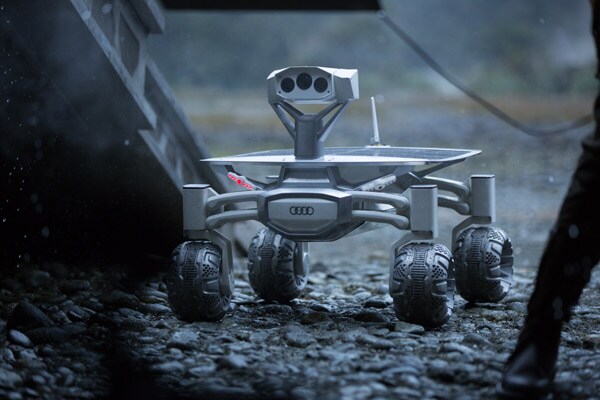 Audi's technical knowledge is going out of this world - literally.


Audi is teaming up with scientists to make the first private moon landing. Two Audi Quattro Lunars will be sent to the moon as early as 2018 with the aim of analyzing the remains of the Apollo 17 Lunar Rover, which has spent the last 45 years on the moon in isolation. One Audi Quattro Lunar will be analyzing the condition of Apollo 17 while the other will document the trip using a stereoscopic camera with object detection. 


Audi will team up with PT Scientists, a German team of engineers and scientists bidding to be the first private company to visit the moon. The engineers will use many elements of Audi's automotive technology in the construction of Quattro Lunars. For example, Quattro technology will enable the Lunar to climb steep slopes of 15-20 degrees. Ultra technology such as 3D-printed wheels will help reduce its weight by 23% and the latest e-tron technology will create a power-efficient engine powered by a solar panel. 


The exploration will last for 11 days and only work during sunlight hours. Once the mission is completed, the Lunars will stay on the moon.


Click here to learn more about Audi's Mission to the Moon.


Content courtesy of: Express