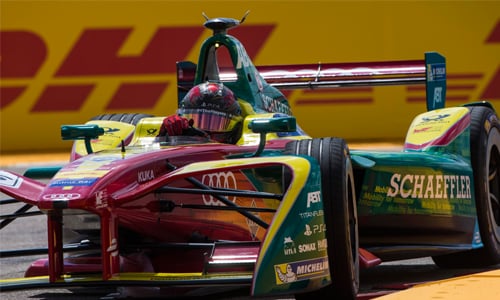 Audi to field own team in 2017/2018 Formula E season
Although the 4th season of all-electric FIA Formula E racing series doesn't start till December, Audi couldn't wait till then to announce they will be fielding a manufacturers team in this years FIA Formula E to be held in Hong Kong on December 2nd.
Taking over ABT Sportsline' place on the grid, Audi will operate under the team name Audi Sport ABT Schaeffler.
This will make Audi the first German automaker to field a factory works team in Formula E. The process started back in October 2016 when Audi quit its Le Mans efforts in order to focus on the all-electric racing series. During the 3rd season of FIA Formula E, Audi kept on growing its presence with the help of increased financial and technical support.
The following announcement was made by Dr. Peter Mertens, Member of the Board of Management, Technical Development, Audi AG:
"We've been supporting the Formula E commitment with increasing intensity in recent months - on the race days, in the development of the new powertrain and in numerous off-track activities as well. That Audi will be the first German automobile manufacturer to be actively involved in the racing series starting next season is also a clear commitment of our brand to electric mobility, on the race track as of December and next year on the road as well with the new Audi e-tron."
Formula E is a class of auto racing that uses only electric-powered cars. The first inaugural championship started in Beijing on September 13th, 2014. The championship is contested by 10 teams with two drivers each on temporary city center street circuits approximately 2 to 3.4 km long.
There are many things that set the Formula E apart from other racing series. With their cars not having enough juice to complete a whole run, the drivers must switch cars in-between to receive a fresh battery. A low curb weight around 1,940 pounds enables the cars to hustle to 50 mph in about 3 seconds.
Formula E also features FanBoost, where fans vote on social media to give three different drives a small horsepower boost.
Click here to find out more about FIA Fomula E.
Content courtesy: CNET